One advantage of the macOS operating system by Apple is the ability to easily add a printer and / or scanner in the system settings with AirPrint. This usually works straightforward with some clicks, but not every time.
The Problem
I am using a Canon Pixma MX925 multifunction printer with an integrated scanner. The device is connected via LAN to allow network printing and scanning. I tried to add it with the "+"-button in the Printers & Scanners menu of the macOS Big Sur system settings. The printer appears as an AirPrint device and can easily be added to the system list, but only as a printer without scanning functionality.
A quick look on the Canon support driver page shows a piece of information that no drivers are needed for macOS Big Sur. Unfortunately, I just could not make the scanner work.
How to Enable Scanning in Apples System Settings
After a lot of try and error as well as some discussions with the Canon Support Team, we found a (very simple and obvious) solution to get it working:
Remove the printer from the system settings ("-"-button).
Remove all drivers and software that are related to the product.
Download and install a driver for printing and scanning (in my case it's a CUPS and ICA driver). (Sidenote: Yes, you have to install it. The statement from the official Canon support page that no drivers are needed for Big Sur is wrong.)
Try to add your printer with the "+"-button in the Printers & Scanners system settings.
Done!
One addition to step 4: After clicking the "+"-button, wait for a little. This will show the printer two times. The first one is displayed as "Bonjour Multifunction" and uses AirPrint, the second one as "Canon IJ Network" and uses Canon MX920 series: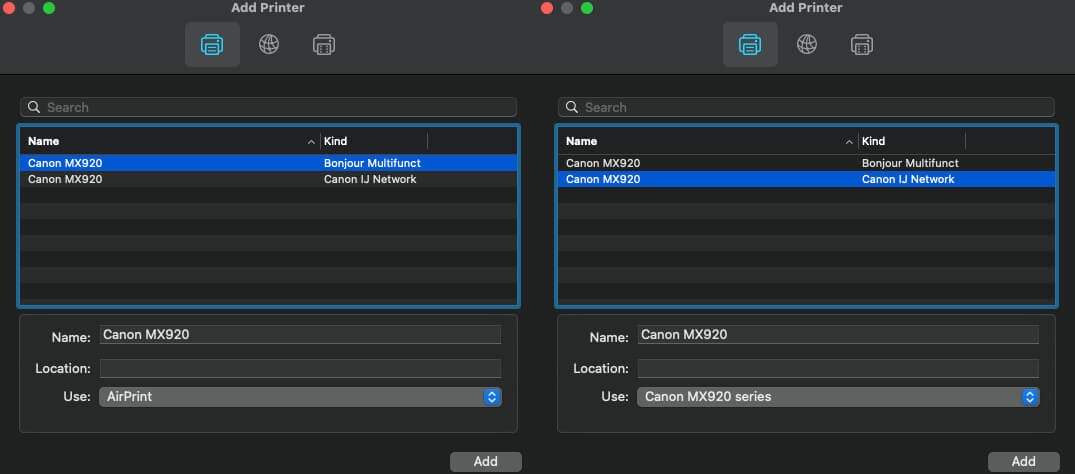 In my case, the first AirPrint one allows direct scanning from the system settings, the second one allows only printing but uses the more advanced printer driver. Thus, I added both.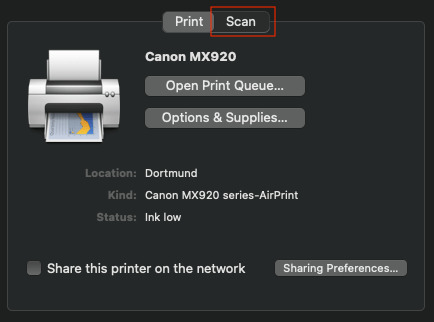 I could only test it with the special MX925 model, but it may work for different Canon models or devices from other manufacturers (HP, Brother, Epson, Kyocera, ...). If this is the case, I would be glad about an information in the comment section.