When using multiple WiFi devices at home like printers, smart bulbs, or vacuum cleaners it is important to create a wireless network without gaps. In my case, I am using an AVM FRITZ!Box 7530* supporting WiFi 6 with an AVM FRITZ!Repeater 1200 AX* to extend the network to every room. The repeater is connected over LAN with the router and configured with Mesh to get the best out of the setup.
The Problem
Recently, I bought a new printer* with WiFi functionality and placed it next to the FRITZ!Repeater. After the configuration and first tests, I was very surprised because the prints and scans are pretty slow and took a lot of time. I looked into the GUI of my router and found out that the printer wasn't connected to the repeater. Instead, it made a connection to the router on the completely other side of my apartment. But why? SSID and passwords are the same.
First Pragmatic Solutions
After a quick internet search, I came across a help page from AVM directly addressing the problem that a device isn't connecting to the best (Mesh) repeater in the network. If the problematic device (in my case a printer) doesn't support the wireless standards 802.11k and 802.11v it won't be possible for the router to re-route the connection to the Mesh repeater. Therefore, the solutions are pretty simple:
Only buy devices with 802.11k + 802.11v support.
Re-configure the WiFi network with a separate network for the repeater (two different SSIDs).
Solution 1 isn't possible for me and the second one is pretty annoying: I don't want to have one SSID for every repeater. In doing so, I would need to add all devices to all networks. I even don't know if this is possible with some small IoT devices or a vacuum cleaner.
The Glitchy Solution
After scrolling through the router settings I found a configuration part that allows reducing the transmitting power. In my case, it can be found under Wi-Fi -> Wi-Fi Channel (remember that it is highly dependent on your router model).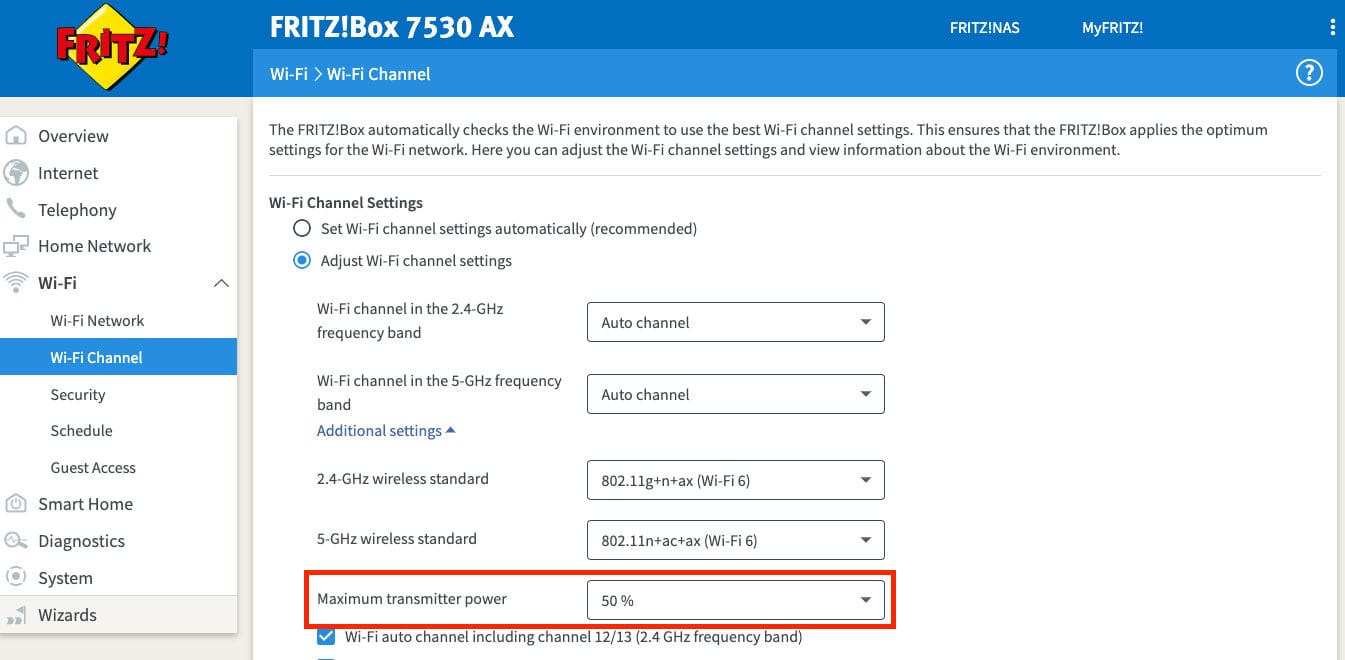 With this set to 50%, the wireless signal isn't strong enough to reach the room where the printer is located. Since the repeater is connected over LAN, the device can only connect to the repeater. It needs a bit of try & error to get it working perfectly without messing up the WiFi network in other rooms. But as long as the manufacturers still use old wireless standards, this is the only sensible solution for me.