Today I want to talk about the new Jabra Evolve2 series, especially the new Jabra Evolve2 85* Over-Ear Bluetooth Headset. For two weeks now I have been testing the Evolve2 85* several hours each day. I know that this is not enough time for an in-depth long-time review, but I am apparently one of the first people testing the headset and I will update this blog article if things change.
Sidenote: I bought the headset myself, so this review is not sponsored by Jabra.
TL;DR
Read the Pros / Neutrals / Cons overview at the bottom.
First Hands-On, Feelings & Quality
The headset arrives in a simple cardboard packaging – nothing special. It looks stylish, the earlobes are pretty soft and it does not feel or smell like a cheap product. A simple carrier bag is included. It offers room for the USB dongle and some cables. It has a really tight fit, though. Therefore I find it hard to put the collapsed headset in it. The also included docking station is heavier than it looks but I like that.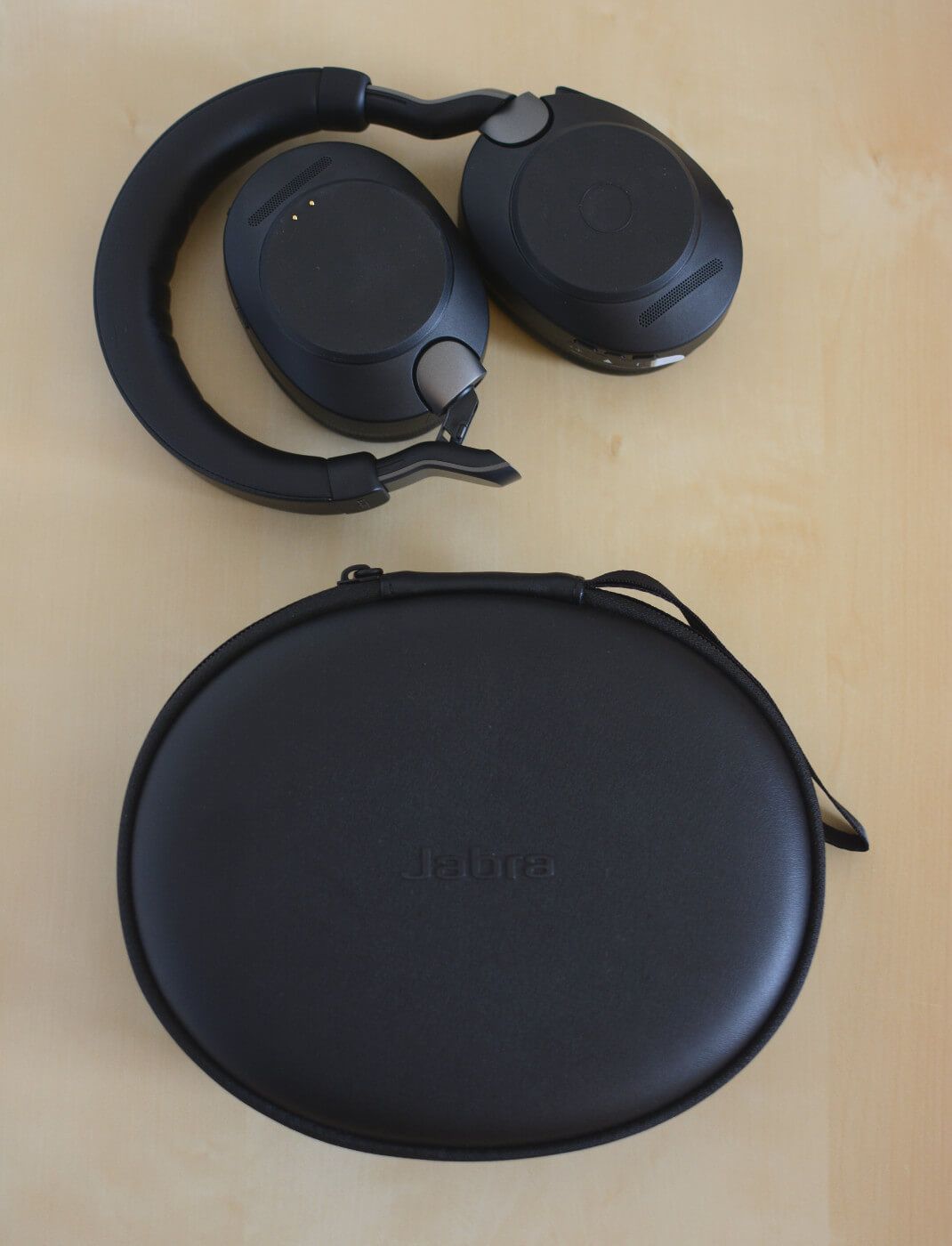 Sound Quality (and common mistakes)
The first time I put the headset on to get an idea of the sound quality, it did not perform well. I was pretty disappointed about the bad sound quality for its high price. But after a lot of testing I found out that it can be operated in 3 different modes:
Active Noise Cancelling (ANC)
Hearth Through
"Off"
The default setting is the third "Off" mode. After switching to another mode, the quality changed dramatically. So always use the first or second mode if you want to have a great audio experience!
Another common mistake for desktop users (that also holds true for other Jabra Evolve products) is to operate the headset in mono instead of stereo mode. So always look into your sound settings and change the audio device output to stereo.
Now about the quality: I must say that I'm thrilled! After selecting the right modes and adjusting the right knobs It sounds great and pretty impressive. Furthermore, I made a direct comparison with a Sony WH bluetooth headphone* which is praised for its good sound quality. I could not hear any noticeable differences, only minor things. Therefore, using the Evolve2 85* as a headphone in your free time is totally worth it.
But remember that the default settings do not get everything out of the device. I love it to have an impressive and powerful bass but as a musician, I also hate it if people increase the bass dramatically without hearing at the mids and highs. After a bit of try and error, increasing the bass and the high tones a little (a classic V-shape) resulted in the best, most vibrant sound setting for me: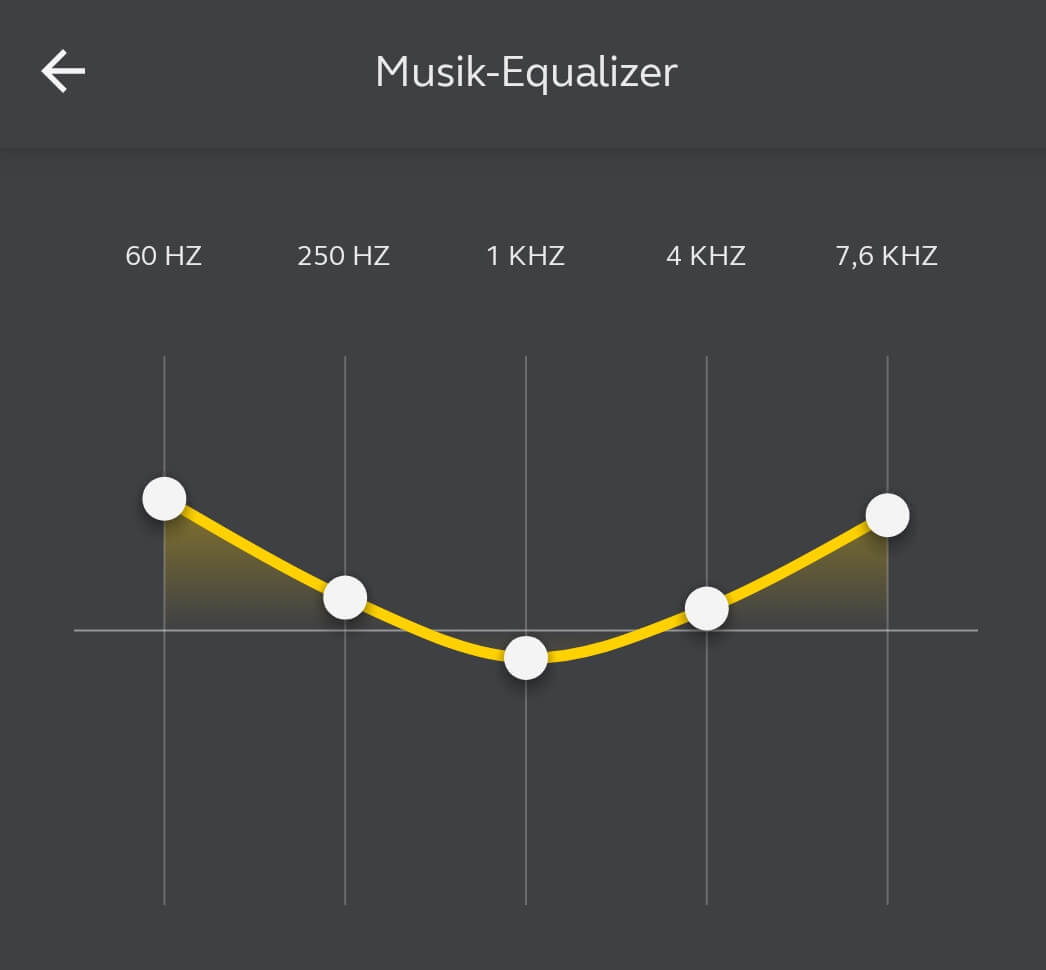 Talking & Hearing Music
One typical use-case for Bluetooth headsets is simultaneously talking to people while hearing music. After answering a call or joining a TeamSpeak or Discord server, the sound quality of your music is going to be bad. However, this is not related to this headset. It is a problem with the Bluetooth standard. Every Bluetooth on market encounters this issue – even Apple AirPods*. With the current Bluetooth implementation It is not possible to talk to people while also hearing your music in high quality at the same time (see this superuser answer). So let's wait if this will change in the future.
Microphone Quality
One of the big advantages of the microphone is the ability to fold it up. Therefore, it isn't visible and the headset can be used as standalone headphones in your free time without looking silly. By folding the mic up and down, phone calls can be accepted or the microphone can be muted. Additionally, there is a small button on the microphone arm to mute or unmute it. The only uncomfortable thing from the microphone side is that the fold-down process includes a 90-degree twist to point the micro at the mouth.
The sound quality of the microphone is totally okay. More impressive than its recording quality is the really great background noise filtering. Background sounds like typing on a keyboard, people talking in the same room or the sound when you clean up the kitchen are filtered out fairly well. This feature is by no means underestimated!
Docking Station / Charging Stand & Battery Life
As mentioned in the beginning, the docking station is heavy and has a safe stand. It is stylish, inconspicuous and also looks great with the headset in place. However, it is annoying to put it correctly on the dock. But this problem seems to run through all the Jabra series.
The manufacturer promises 37 hours on battery with one full charge. I have not stopped time, but I used it for several days without a single charge. This is totally enough!
Apps & Software
The Jabra apps are just okay. Sometimes the Android App does not recognize the device. In return they offer great built-in functionalities like an equalizer, several sound modes and special settings like controlling the busy light, changing modes or finding the headset. One thing I really like is that I can configure the sensitivity of the Hear through mode. With a simple slider I can choose if I want to hear the "outer world" pretty loud or only a little bit.
Other Things
Some other things to mention: The busy light automatically turns on if you are in a call. That's highly practical in shared offices but not in the home office or in your free time. You don't want to look like a red-glowing traffic light when going through the city center.
The Active Noise Cancelling (ANC) mode is okay but there are a lot better alternatives on the market. If this is an important point for you, you better choose another solution.
The wearing comfort is great! Most headphones or headsets lead to hurting ears at long wearing durations but not these ones! For spectacle wearers, it's comfortable, too.
The control directly on the headset is okay. There are a lot of buttons and sliders like a big one on the earcup (1.), a play / pause (3.), a loud (4.) and quiet (2.) button, an on / off / Bluetooth connect slider (5.), a mode changing button (6.) and one on the microphone to mute / unmute (7., not in the picture). Especially if you are new to the headset it feels like it has too many buttons and it is not intuitive.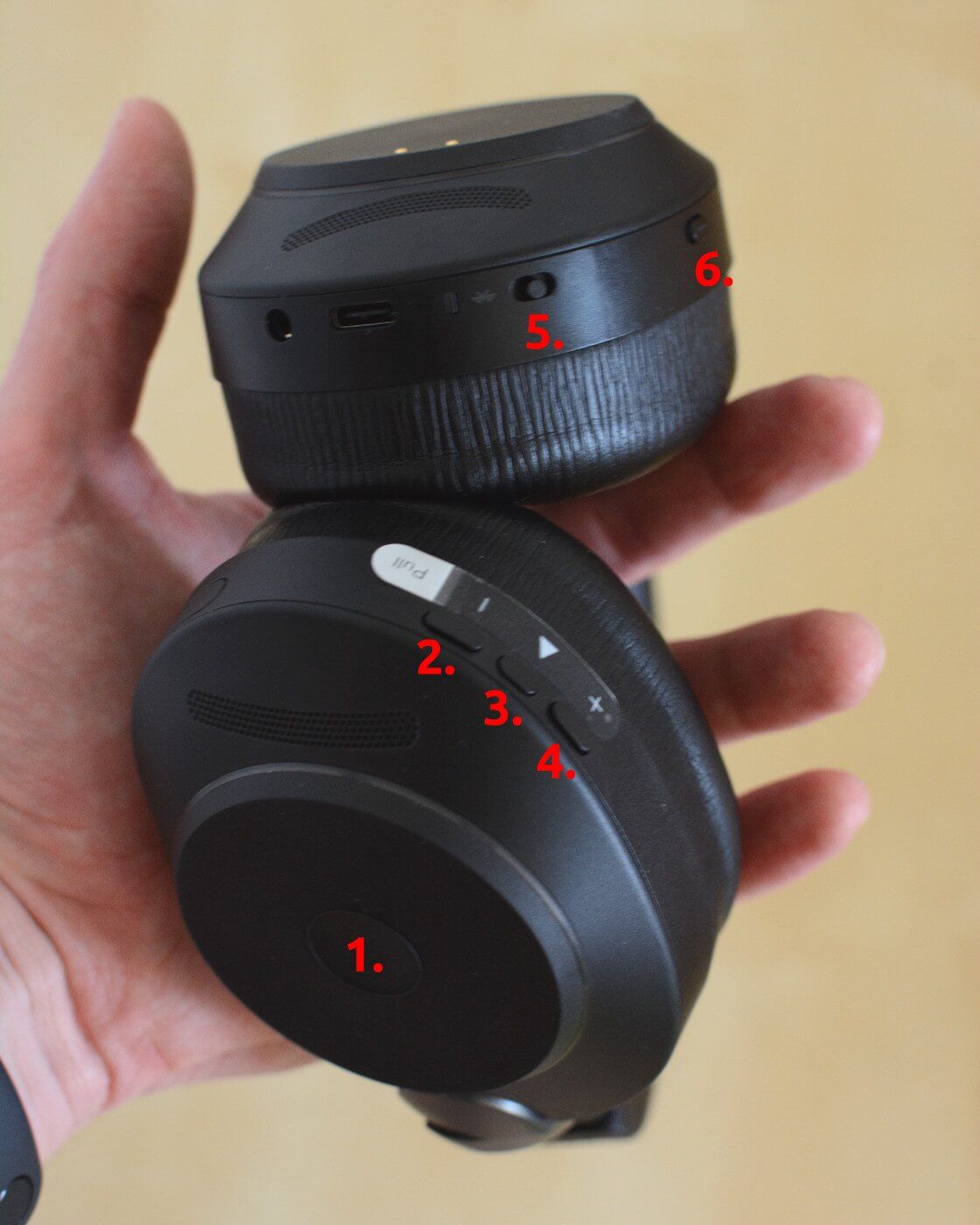 Reasons For The Jabra Evolve2 85 & Competitive Products
First things first: I tested some Bluetooth headsets before like the Jabra Evolve 75* and I really must say: If you switch from a wired to a Bluetooth solution, you don't want to go back, so be careful!
Personally, I am using my computer every day and I am hanging long times in Teams or Skype meetings or I call people over my smartphone. A Bluetooth connection to 2 devices simultaneously is totally necessary for me which excludes a lot of headphones like the Sony WH-1000XM3*. Therefore, solutions like external large membrane microphones or wired headsets are out of the question for me. I also love to hear music so the ability to remove or hide the microphone to use the headset as headphones without looking dumb has appealed to me very much. It is hard to find such competitive products but the only headsets with a removable / hideable microphone I could find are the Corsair Virtuoso RGB Wireless* and the EPOS ADAPT 560. I haven't tested them so I can't give you more information about them, sorry! It is important to say that most Jabra products are in the high price segments in comparison to its competitors (perhaps in consequence of the main B2B focus!?) but in return, you get great quality products.
Conclusion
Here is a quick, summarized list of the main pros, neutrals and cons:
Pros
Great sound quality
Impressive background noise-filtering microphone
Ability to use it as an over-ear headphone or a headset (without looking silly)
Docking station / Charging stand
Connect up to 2 devices over Bluetooth simultaneously
Stylish design
Comfortable, even after many hours
Neutrals
Busy light
Jabra Apps (desktop & mobile)
Operation and control directly on the headset
Cons
Active Noise-canceling
Expensive
Docking Station handling
To conclude, the ability to use it as a Bluetooth headset or headphone, connect 2 devices simultaneously, the charging stand and the great sound quality is by far the strongest advantages for the product and I don't know any other competitive product with the same functionalities. For these reasons, I would suggest it and I would buy the device again. But remember: Everyone needs another headset that fits to the self, perhaps completely different, requirements. So please evaluate the mentioned points by yourself to build your own opinion.